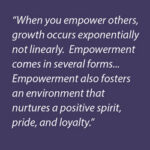 As an engineer, I am very analytical and linear in my thought process. This is natural and almost expected as I deal with equations following specific procedures to arrive at design solutions. After all, there is no gray in engineering – it is either black or white. I refer to this thought process as counting pennies – that is examining every detail down to the smallest one to make sure everything is accounted. Because of my ethical obligations to protect the public with my designs, I, as an engineer, have to count and take into account these pennies to avoid potentially disastrous situations.
As the leader of PILLAR, my thought process is different. I can't get bogged down with all the little details; otherwise nothing moves forward at the pace it needs to because people are waiting on me. I need to think bigger and broader and count the Benjamins. That doesn't mean the details aren't important. On the contrary, they are very important and can't be ignored. Here is where leadership comes into play. As I don't have the resources to examine all the little details, I have to responsibly delegate them by providing a clear vision with enough direction to my employees.
In short, I have to lead not do.
When I focus on the Benjamins – the big picture or total package – and let other employees count the pennies, I have to provide the tools and atmosphere of collaboration and teamwork to maximize individual strengths in order to achieve maximum performance in a timely fashion to either meet deadlines, exceed expectations, or act quickly enough to stay ahead of the competition. I also have to know my employees well enough to put them in a place where they can confidently work the details and excel at what they are good at. When my employees take a portion of the bigger picture, they accept responsibility for taking care of and focusing on their stack of pennies.
All this dialog of pennies and Benjamins is not a discussion on revenue or profit. Rather it is a discussion on short-term versus long-term thinking. As a leader, focusing on pennies is short-term thinking dealing with an event happening now or in the immediate near future. Focusing on Benjamins is long-term thinking dealing with the future or the direction of the firm. Dealing with pennies is like a horse with blinders. You can only see what is in front of you with a very limited and narrow view of the scene. You cannot get stuck in one pile of details for any length of time, lest some of the other piles get either too enormous to overcome or dwindle away to nothing from lack of attention. If you're focusing on Benjamins, you're gazing on the wider view of the horizon.
As a by-product of focusing on the Benjamins and relinquishing control of the pennies, I have fostered a cultural shift of accountability and responsibility while simultaneously empowering those who can make it happen. When you empower others, growth occurs exponentially not linearly. Empowerment comes in several forms. Simply put, it is removing roadblocks thereby building an atmosphere of collaboration and teamwork. Empowerment also fosters an environment that nurtures a positive spirit, pride, and loyalty.
Focusing on Benjamins allows me the time to reflect on our firm's vision and purpose and formulate a path on how to fulfill them. It is easy to get caught up in working a pile of pennies as problems arise. I call this putting out brush fires. Unfortunately, this leads one to scramble with no sense of direction or purpose and eventually reflects and resonates with employees by stagnating any growth, duty, or loyalty.
I'll admit focusing on the Benjamins is a continuous work in progress and there are still times I get stuck in the piles of pennies. As the firm grows and I mature, I like to think I am getting better at looking at Benjamins.
How about you? Are you focusing on pennies or Benjamins?