Welcome to PILLAR: Your Trusted Asset Management Partner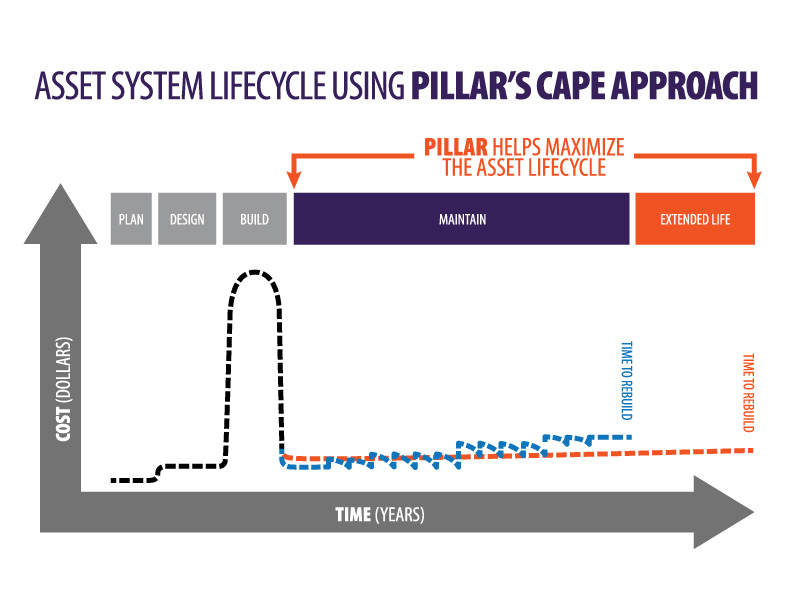 At PILLAR, we are a dedicated team of multidisciplined professionals, each with decades of experience in tactical, strategic, and operational expertise. Our unwavering commitment to ethics, public well-being, and safety is at the core of everything we do. We believe in underpinning our services with a strong foundation of sound engineering principles, cutting-edge technology, meticulous attention to detail, and unwavering integrity. From boots on the ground to lines on the paper to points in the cloud, our CAPE approach has you covered.
Our CAPE Approach: Smart Solutions for Asset Management
PILLAR's Collection, Assessment, Planning, and Execution (CAPE) approach is the fusion of technology and specialist expertise. We harness these elements to optimize, develop, and execute tailored asset management plans that secure program funding, reduce public concerns, and elevate the service quality of your infrastructure assets to a state of good repair. We are the trusted advisory partner that Departments of Transportation, municipalities, and P3 stakeholders rely on for fiscally responsible operations and maintenance. As an extension of your agency, we instill confidence by helping you navigate potential challenges and prevent costly overruns.
Precision and Expertise for Sustainable Success
Our process begins with pinpointing the location of your assets and meticulously evaluating their condition. Using a blend of cutting-edge methods and state-of-the-art technologies, we gather granular details to attain a global view of your entire system. This comprehensive approach ensures well-defined and targeted practices. After all, understanding what you have, where you have it, and its condition is the first step in addressing shortcomings. We collaborate closely with your organization's leaders and field personnel to ensure these plans are not only well-conceived but also effectively executed, achieving the desired impact while mitigating risks and controlling costs.
A Vision for Sustainability and Resilience
Our holistic approach extends beyond your immediate visions, needs, and budgets. We explore the potential of new technologies, operational procedures, equipment capabilities, environmentally friendly methods, and suitable materials to enhance the sustainability and resiliency of your system and its assets. With our extensive experience and understanding of all aspects of road construction and maintenance, combined with cutting-edge technology, we provide a solid foundation for making unbiased, cost-effective, practical decisions, no matter the complexity of the project. Our solutions not only address current needs but also lay the groundwork for future requirements and concerns. In essence, we make sustainability achievable.
Learn More About Us
To discover more about our team and our CAPE approach, and to explore how we can assist you, please don't hesitate to reach out. Contact us directly to discuss your specific needs and questions. PILLAR is here to support your journey towards efficient, sustainable infrastructure asset management and maintenance operations.

PILLAR's CAPE Approach
PILLAR's unique approach shields you from the uncertainties that strike during the overall pursuit of greater sustainability and longevity of your transportation assets.
We apply a 4-step process that encompasses Collect, Assessment, Planning, and Execution (CAPE) to assure each project, no matter how routine or intricate, is systematically worked to produce the highest qualified solution or quality product possible.