PILLAR is an infrastructure asset management firm solely dedicated to maximizing the lifecycles of your assets.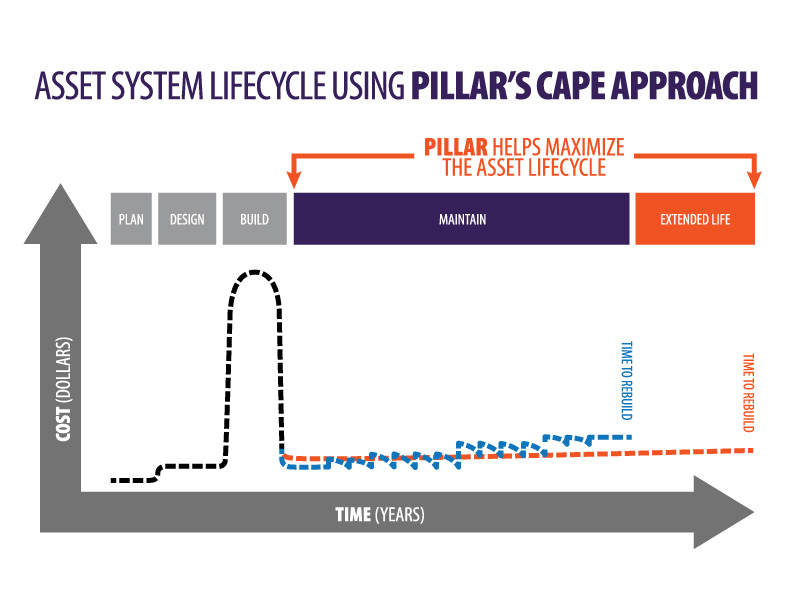 PILLAR is a firm comprised of multidisciplined professionals with decades of tactical, strategic, and operational experts who are ethically committed to the well-being and safety of the public. We underpin our level of service with sound engineering principles, common sense, cutting-edge technology, software, and equipment, attention to detail, personal relationships, and integrity. From boots on the ground to lines on the paper to points in the cloud, PILLAR's CAPE approach has got you covered.
Our Collection, Assessment, Planning, and Execution (CAPE) approach merges technology with specialist expertise to optimize, develop, and execute tailored asset management plans to secure program funding, reduce public outcry, and improve the service level of all your infrastructure assets to a state of good repair. We are a trusted advisory partner that DOTs, municipalities, and P3 stakeholders rely on for fiscally responsible operations and maintenance. As an extension of your agency, we provide confidence by helping to avoid potential pitfalls and costly overruns.
By pinpointing the location of your assets and evaluating their condition, we can develop and execute fiscally tailored plans. This is accomplished by using many methods and state-of-the-art technologies. Using these granular details, we achieve a global view of the entire system, allowing well-defined and targeted practices. After all, you need to know what you have, where you have it, and its condition in order to appropriately address shortcomings. We then collaborate with your organization's leaders and field personnel to ensure these plans are properly executed, perform as intended, and get deployed to magnify impact while also mitigating risks and recovering costs.
Our holistic approach not only includes our client's visions, needs, and budgets, but also the possible roles new technologies, operations, procedures, equipment capabilities, environmentally friendly methods, and appropriate materials may play in the overall pursuit of greater sustainability and resiliency of your system and its assets. Our experience, understanding, and familiarity with all facets of road construction and maintenance operations wrapped around next-generation technology provides a solid foundation necessary to make unbiased, economical, practical, and applicable considerations and decisions no matter how common, specialized, or intricate the project. Our solutions not only satisfy immediate needs, but are feasible, sensible, and lay a foundation for addressing future needs and concerns. In essence, we make sustainable attainable.
You can learn more about us and our CAPE approach and how we can help you by contacting us directly to discuss your needs and questions.

PILLAR's CAPE Approach
PILLAR's unique approach shields you from the uncertainties that strike during the overall pursuit of greater sustainability and longevity of your transportation assets.
We apply a 4-step process that encompasses Collect, Assessment, Planning, and Execution (CAPE) to assure each project, no matter how routine or intricate, is systematically worked to produce the highest qualified solution or quality product possible.