Effective transportation infrastructure asset management starts with understanding your full inventory of assets and their condition. The resulting point clouds from Mobile LiDAR provide a clear picture of your transportation assets and their condition to make data-driven decisions quickly and cost-effectively.
Mobile LiDAR captures roadway and infrastructure assets at posted speed limits, thereby collecting data at a fraction of the time it takes traditional surveying methods.
Mobile LiDAR creates 3D point cloud models that are precise depictions of roadways and infrastructure. These give unparalleled accuracy in establishing relationships between your data points, revealing their true position and condition.
Maximizing the Value of the Point Cloud with PILLAR
PILLAR's Mobile LiDAR service takes the significance of the point cloud to the next level with its proprietary Fully Automatic Feature Extraction System (AFES) that instantly extracts features and attributes (such as height, width, text, etc.) as data is processed. Machine Learning, AI, and Computer Vision are incorporated in the processing of this data with outputs to standard GIS formats, Shape files, geodatabases, and more.
Gone are the days of spending countless man-hours scrolling through pictures overlapped on the point cloud, pointing a cursor, and clicking on the asset to spatially link the two. Rather than traditional "point and click" semi-automatic extraction, Mobile LiDAR with AFES means fewer days to completion of your global view.
Decisions Backed by Data
Without a global view of your assets and infrastructure, it can be difficult to make decisions for asset managers to justify funding for projects and programs. Tasked with managing hundreds of assets, some organizations are unaware of more hidden assets such as pipelines, drainage systems, and paved ditches. This can account for poorly mismanaged asset maintenance, costing agencies thousands of dollars.
A point cloud analysis powered by PILLAR AFES gives decision-makers the ability to provide asset data across various departments and stakeholders, integrating databases and streamlining processes to cut time and share costs. With a geospatial inventory, transportation agencies can determine priorities and set those priorities with a ROI-focused approach.
Applications for Mobile LiDAR and Point Cloud Analysis
Mobile LiDAR and Point Cloud Analysis help departments of transportation and localities make data-driven decisions to effectively manage the state's transportation assets. Applications of this technology also serve as a valuable tool for emergency planning, disaster response, and community resiliency in the face of climate change. Infrastructure plays a significant role in these efforts, creating a need to better manage and invest in infrastructure improvements.
With PILLAR's AFES, data can be instantly extracted and processed as 3D environmental models – increasing efficiency, transparency, and better planning.
An innovative application of Mobile LiDAR with point cloud analysis for mowing management won the Virginia Department of Transportation – Staunton District the Environmental Agency Award. In collaboration with PILLAR, the team discovered it could allocate thousands of mowing acres as stormwater pollutant offsets. The discovery led to a 15,800-pound reduction in nitrogen, saving VDOT about $12.8 million in mitigation projects and nitrogen-credit purchases.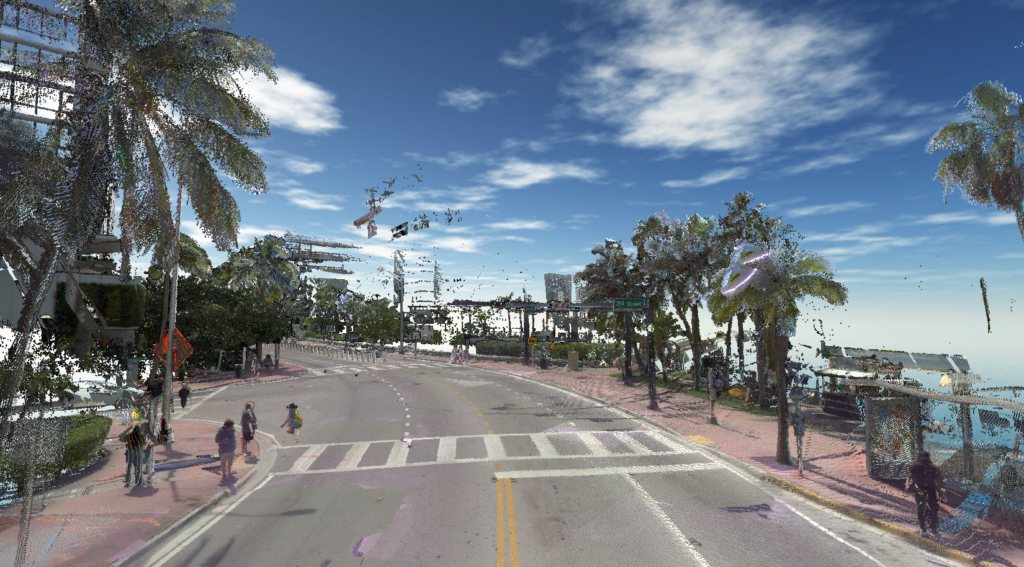 Save Time, Save Money, Save Lives
With the advances in surveying technology like Mobile LiDAR and point cloud analysis, asset management firms can help deploy effective asset management plans that will save time, save money, and save lives. PILLAR is trusted by departments of transportation that manage some of the largest state-maintained highway systems in the country to do exactly that. We help organizations make value-based decisions that proactively manages risk for the long-term needs of your asset base.
Contact us at info@pillaroma.com or (276) 223-0500 to discuss your asset management plans with a PILLAR expert.